October 2nd, 2019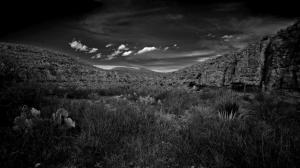 I started out in black and white photography some 58 years ago. I was given a camera and all the chemicals to process my black and white film.

As I shot, I learned to "see" in black and white. I learned to focus on patterns and textures; light and shadow; sharp and soft (depth of field). When I "graduated" to color, I had to learn to see in an entirely different way. Colors and color temperature started to matter. Patterns and textures weren't the primary drivers of image interest any more.

In that day and time, you generally either shot with a color film loaded camera or a black and white film loaded camera — unless you had the priviledge of carrying two bodies. Images which might render better in one medium over another might be missed.

So, in today's digital work, how does one decide whether to render an image in color or black and white? I've made a practice to shoot everything in color — even those images that I "see" in black and white. While I maintain a Black & White album, some of those images can also be found in my color work as well.

What about you? Which do you prefer – black and white or color? Why?